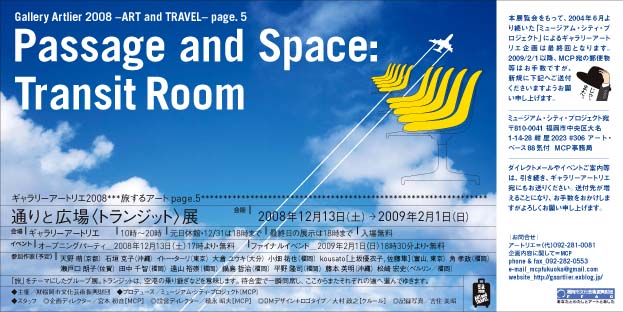 Gallery Artlier 2008 page. 5
[Passage and Space: Transit Room]
A group show, theme is "travel"
venue: Gallery Artlier
Hakata Riverain B2, Shimo-kawabata 3-1, Hakata-ku Fukuoka 812-0027 JAPAN
date: Dec. 13 (Sat.) 2008 to Feb. 1 (Sun.) 2009
10h - 20h
* closed on Jan. 1 / Dec.31until 18h / Feb. 1 exhibition until 18h
admission free
event (both admission free)
Opening reception, Dec. 13 (Sat.) 17h
Final event, Feb. 1 (Sun.) 18h30
artists (
profile page
)
Amano Moe
Ishigaki Katsuko
Ito Tari
Ookura Yuki
Obata Yuya
kousato(kousaka yuiko, sato jun)
Sumi Takamasa
Setoguchi Akiko
Tanaka Chisato
Tohyama Hirotaka
Nabeshima Tetsuji
Hirano Takashi
Fujimoto Hideaki
Matsuzaki Hirofumi
Organized by the Fukuoka City Foundation for Arts and Cultural Promotion
Produced by the Museum City Project [MCP]
Director: Miyamoto Hatsune [MCP],
Installation director: Tokunaga Akio [MCP]
Logo and direct mail design: Oomura Masayuki [couleur],
Recording photograph: Yoshizumi Yoshiaki
* MCP has been producing Gallery Artlier since June 2004.
This is the last show MCP produces.
Please send to new address after February 2009.
c/o ART BASE 88, #306 KONYA 2023 (Dai 1 Matsumura Bld.), Daimyo
1-14-28, Chuo-ku Fukuoka 810-0041 JAPAN
mail [mcpfukuoka@gmail.com]